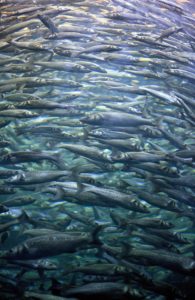 An ecosystem is represented by several groups of species linked together by trophic relationships. For example, the dolphin feeds mainly on small pelagic fish, small pelagic fish on zooplankton and zooplankton on phytoplankton. If there is a change at one level of the ecosystem (for example, under the effect of climate or anthropogenic pressure), cascading effects will be observed on the lower and/or higher trophic levels.
In the Bay of Biscay, we find:
an increase in surface temperatures of 0.3°C since 2000 as a result of climate change;

an increase in anchovy biomass since 2010;

an increase in dolphin strandings since 2010.
The challenge is to provide new knowledge on the habitats and distributions of small pelagic fish and common dolphins. Their evolution over time will be characterized and 3D maps of small pelagic fish and their level of aggregation over the seasons will be produced. Subsequently the co-occurrence between small pelagic fish and common dolphins in their different seasonal habitats will be modeled.
This will be possible thanks to the use of existing data on the subject, data from WP1, and thanks to sea campaigns using marine drones equiped with echo sounders and hydrophones, and aerial surveys.